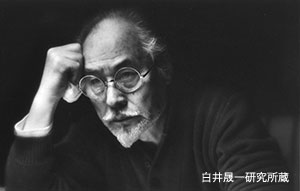 Born in Kyoto in 1905, Seiichi Shirai graduated from Kyoto Craft High School (now Kyoto Institute of Technology) and then moved to Germany to study Gothic architecture, while also studying early-modern German philosophy at Heidelberg University and the University of Berlin.
When Shirai returned to Japan in 1933 after finishing about six years of study in Germany, rather than choosing the path of philosophy or art, he set off on the path of architecture, starting with the design of the Kawamura Residence (formerly the Koichiro Kondo Residence) and "Kankiso." Leaving behind many works culminating in his posthumous "Unbankyo," Shirai was awarded with a Kotaro Takamura Prize (Molding Category), an Architectural Yearbook Prize, an Architectural Institute of Japan Prize, a Mainichi Arts Prize, and a Japan Art Academy Prize. These achievements were covered in not just architectural journals, but general newspapers and magazines as well.
Although renowned as an architect, Shirai also designed the bindings of many books, including ones he wrote himself. As a notable example, he was on friendly terms with Yusaku Shimanaka, president of the publishing company Chuokoron-sha, and designed bindings for its Chuko Shinsho and Chuko Bunko labels that reveal a drawing of a bird when the cover is removed.
He was also known as a calligrapher. Under the pen name "Kongen Koshi," he was featured in several solo exhibitions in Tokyo and elsewhere, and left behind a collection of calligraphy in book form.
Seiichi Shirai's representative architectural works
The following are some of Shirai's actively presented and award-winning works.
Shizuoka City Serizawa Keisuke Art Museum
The Shizuoka City Serizawa Keisuke Art Museum is an art museum built in 1981 according to Seiichi Shirai's design. Since it was built around the same time as the Shoto Museum of Art, it has many similar features, including the stone used for the exterior walls (Korean Kounseki granite), the fountain strikingly located inside the building, the onyx used for the luminous ceiling, and even the furnishings.
While the Shoto Museum of Art is situated in Shibuya's well-known upscale residential district of Shoto, the Serizawa Keisuke Art Museum was built in a section of Toro Park, near the Toro archaeological site famous for its Yayoi period (c. 300 BCE-300 CE) remains. Although the facilities have a number of features in common architecturally, the fact that the Serizawa Keisuke Art Museum is far from the hustle and bustle of the city gives it a different character from the urban Shoto Museum of Art. Visiting both facilities is therefore sure to provide an interesting contrast.